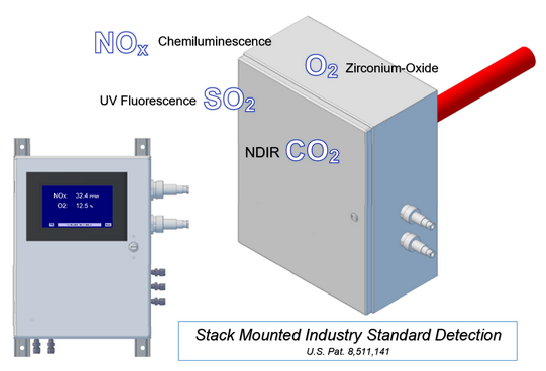 Reliable Feedback for Emissions Control
The Brand-Gaus Model 9705 is an extraordinarily compact rugged process analyzer providing fast, reliable, precise, and continuous emissions measurements of nearly any type of combustion source.
Combining the high-performance and ruggedness of solid-state chemiluminescence, UV fluorescence, and NDIR detection with our innovative patented* moderate dilution (meso-dilution) eliminates the need for climate control and most sample handling equipment found in conventional monitors. 
The Brand-Gaus Process Gas Analyzer is ideally suited for monitoring NOx or SO2 levels from feedback or feed-forward controlled processes, where very fast, real-time continuous detection is highly beneficial.
The Brand-Gaus Model 9705 Process Gas Monitor features dramatically simpler operation, lower capital and operating cost, and much higher reliability than conventional CEMS or other technologies.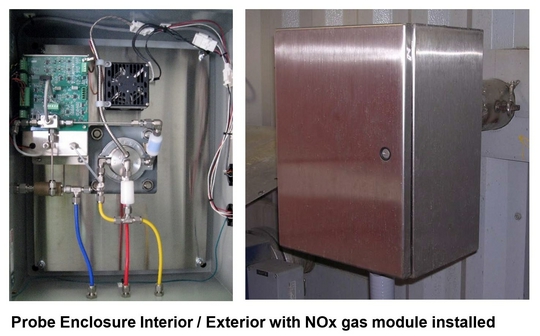 Applications include:
NOx monitoring of selective catalytic reduction systems (SCR) and non-catalytic reduction systems (SNCR)
SO2 monitoring for SO2/SOx scrubbers
Compliance assurance monitoring of small sources
Emissions monitoring of combustion sources:
Coal-fired boilers (low and high sulfur coal)
Natural-gas fired boilers and internal combustion engines
Diesel engines
Gas turbines
Nitric acid plants
Cement kilns
Proven Field Performance
The Brand-Gaus Process NOx Analyzer achieves excellent agreement with conventional dilution-extractive CEMS on SCR outlets of coal-fired boilers, where high particulate loading and as much as 1500 PPM SO2 are present.
Simple Operation, Low Cost, High Reliability
Patented meso-dilution fully integrates probe and analyzer flow control, greatly simplifying pneumatics and reducing parts count.
Close-coupled measurement -- no heated sample-lines or environmental shelters required.
Separate analyzer modules for each gas allows removal of each gas detector for ease of maintenance and repair.
All solid-state detection: no photomultipliers, no electrochemical cells, no regeneration or switching systems, and no delicate paramagnetic components.
Simplified pneumatics and electronics for high reliability and ease of maintenance.
Any two gases can be measured in a single instrument
Patented Meso-Dilution Gas Analysis
Brand-Gaus's patented* meso-dilution provides fast response, robust flow control, and reliable sample extraction with far-fewer components than traditional dilution-extractive systems.
Filtering, heating, NO2 conversion and moderate (meso) dilution of sample all occur within the process
Eliminates any chance for condensation or precipitation while sample is extracted from the process
Greatly simplifies pneumatics over traditional systems, integrating sample flow, ozone flow, and dilution rate control right at the probe
Eliminates dilution eductors and fast-loop extraction components
Sensitivity, noise, and stability greatly improved over traditional dilution systems given gas constituents are much closer to native process concentrations
High-temperature Gas Detection at the Source
Gas detector modules, ruggedized for high temperature, heavy-industrial environments, located directly at the probe
High temperature operation allows for dilution rates as low as 5 to 1, providing superior detection performance especially at low-concentrations
Eliminates lag time due to sample transport, achieving very fast response, ranging from 10 to 30 seconds
Eliminates gas component losses in long sample lines
Allows interface installation any distance from probe
Simple, Robust User Interface
Large touch screen display provides a highly intuitive interface, with fewer menus and easily adjusted operating parameters
Simple interface for control of cal-gas and instrument air flows
Integrated cal-check timing with choice of manual or fully automated calibration
Sample-and-hold during cal-check
In-cal, in-maintenance, and instrument-fault relays
Built-in O2/CO2 correction and conversion to lbs/MMBTU
On-screen trend chart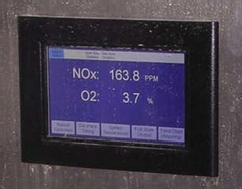 Gas Detection Specifications (any two gases)
NOx
SO2
CO2
O2
Measurement
technology
Chemilumin-
escence
UV fluorescence
NDIR absorption
Amperometric
zirconium oxide
Measurement
range
0 to 1000 PPM
0 to 1000 PPM
0 to 30 %CO2
0 to 25 %O2
Zero noise
< 0.02 PPM
< 0.25 PPM
< 0.01 %CO2
< 0.02 %O2
Zero cal-drift
per day
Better than
± 0.1 PPM
Better than
± 2 PPM
Better than
± 0.2 %CO2
Better than
± 0.2 %O2
Span noise
< 0.25% of reading
< 0.25% of reading
< 0.25% of reading
< 0.02 %O2
Span cal-drift
per day
Better than
± 2% of reading
Better than
± 2% of reading
Better than
± 2% of reading
Better than
± 0.2 %O2
Linearity error
< 2% full scale
< 2% full scale
< 2% full scale
< 2% full scale
System Specifications
| Parameter | Value |
| --- | --- |
| Ambient conditions | -20 to 55 C, continuous outdoor use |
| Power required | 120 VAC, 5A max |
| Instrument air required | 2 SCFM, 80 to 100 PSI |
| Sample flow | 50 SCCM |
| Calibration flow rate | 1-5 SLPM |
| Response Time | T95 < 15 seconds |
| Gas concentration signal | 4 to 20 mA analog output for each gas, adjustable concentration range |
| Maximum process temp | 500 C |