Oxygen Analyzer for Extractive CEMS and Process Control
Continuous Measurement of Oxygen Concentration
using Linear Ouput Zirconium Oxide Technology

Precise, Compact, Rugged Oxygen Measurement
High performance and robust operation make the 4710 a great alternative to conventional zirconium oxide and paramagnetic oxygen analyzers in both process control applications and conventional extractive CEMS.
Building upon the success of our Model 4705, the Brand-Gaus Model 4710 Oxygen Analyzer is the ideal choice for measuring oxygen concentrations in the most demanding monitoring applications.
NEW for the 4710
One fourth the rack space
Simplified calibration - no screwdrivers or pots
Modbus over RS-485 and Ethernet, along with 4-20mA analog output
Linearity better than 0.1% O2
Soft-start heater power, increased resistance to thermal shock
Longer sensor life due to higher reference cell bias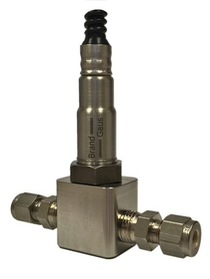 Remote Sensor with customer
supplied Swagelok fittings
Remote Sensor - can be placed right at the source
Our compact, highly-engineered oxygen sensor offers maximum flexibility for placement right where it is needed.
Can be located more than 50 feet from the analyzer
Consumes only 10 Watts
Small enough to fit in tight spaces, right next to process
Can be directly in-line with heated sample line
Can be used to measure O2 in either dry or hot/wet sample streams
Measurement Down to Zero Percent Oxygen
Our compact, highly-engineered oxygen sensor offers maximum flexibility for placement right where you need it.
Our unique linear output zirconium oxide sensor consists of two back-to-back zirconia cells in a single monolithic structure. Logarithmic response is avoided so the 4710 can measure down to zero oxygen concentration and nitrogen can be used to calibrate zero response.

Minimal Rack Space Required - one half rack unit
With the sensor remotely located, the analyzer only takes up only 1/2 of one rack unit - 1/4 the rack space of the Model 4705.
Two Model 4710's can be mounted side-by-side for a moisture determination by subtraction of wet and dry oxygen measurements - all taking only 1 ru of space.
Performance Specifications
Measurement range:
Adjustable between zero and 50% O2
Precision: 0.01% O2
Zero drift: ±0.02% O2 per month
Span drift: ±0.1% O2 per month
Linearity error: less than .1% O2
Absolute accuracy: 1% of value
Response time: T95: 10 seconds
Mechanical and Electrical
EIA 19" rackmount enclosure: 1 rack unit tall x 1/2 rack wide
9-3/8"x1-3/4"x 5-5/8" overall, 7 lbs.
Rackmount kits available for single or dual side-by-side mounting
Power: 24V, 1A operation (external 115VAC power supply available)
Sensor Connections
1/4" NPT inlet and outlet ports
5-conductor cable, 24" long x .25 typical, extension cables available
Interface Specifications
Isolated Analog Output: 4-20 mA maps 0 to full scale concentration
Digital communications: MODBUS over RS-485 and Ethernet TCP/IP